First of all, I know this is the first post on GEEK! in around 3 months – sorry about that. I have to say, as I start diving deeper into work and education, I'm running out of time to blog. I'll try to post a bit more once college is over.
Anyway, I recently gave in and returned (after nearly 4 years) to 3. I used to be with them when I had my Nokia 3120 Classic (good times) on PAYG, but times have changed a fair bit since then and I can afford a snazzy iPhone 5 contract. I thought a lot about who to go with, but I have to say 3 quickly sealed the deal with their One Plan. I mean – come on – who would turn down oodles of minutes/texts and, more importantly, all-you-can-eat (quite literally – it's realistically up to 1000GB a month) data and tethering for £36 a month? Better still, EE and 3 are the only two networks capable of ever providing LTE for the iPhone 5, so with the promise of that later in the year, it's almost impossible to say no. EE's £36 a month deal gives you 500MB a month, which almost questions why you'd even benefit from 4G with a limit that small.
Ok, so the awesome deal had pretty much perfected for me – until I got home and actually used it. Now, bearing in mind, at home I get roughly 7Mbps a second on our stone-age ADSL, I was pretty astounded when I started getting speeds such as this through my iPhone…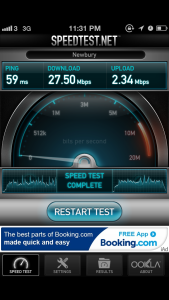 Ok, that's only one test. It's only fair to do a few, so here's a good sample.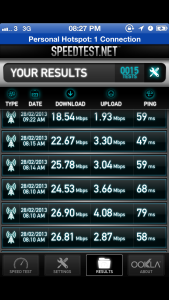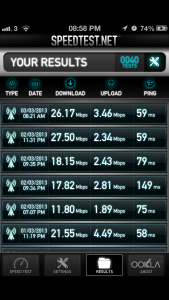 Not bad really? Overall, while at home, I'm averaging around 22Mbps. For me, it questions what benefit there really is to LTE. If I can get these kind of speeds from DC-HSDPA, why would anybody pay such a high premium for 4G?
The speed still holds up fairly well in the city too. My local city is Oxford, and I can happily get speeds of around 10-15Mbps. Given that the network will undoubtedly be under much heavier strain in densely populated areas, it still copes very well.
For me, though, in theory it only gets better. In September/October, EE will hand over a segment of the 1800Mhz LTE spectrum to 3, giving them a very valuable resource. And to top it all off, 3 have told us we won't have to pay a penny more for it.
3 deserve to be shouting about this way more than they actually are – frankly I don't think it's given anywhere near enough credit for what it is.
Nonetheless, I'm delighted to be back with 3. For those that are interested – the plan I'm on is the £36 a month iPhone 5 One Plan.