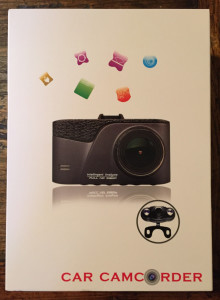 Rating: ★★★★
PROS:
Includes number plate watermarking
Good low light performance
Cleverly designed mount makes docking and undocking easy
Includes rear view camera for extra protection
CONS:
Interface is a little clunky, some sound effects can't be turned off
Onboard battery is pointless
Buy now from Amazon – best price at time of writing £64.25
As I've highlighted before on GEEK!, I feel that dashcams are becoming ever more important in business as well as personal vehicles. The increasing level of crash-for-cash accidents, paired with the ever-increasing price of insurance (particularly for young drivers) makes dashcams almost vital in proving your innocence during a not-at-fault claim. Thankfully dashcams are starting to get much cheaper and more readily available, and some firms are even offering discounts for fitting dashcams to vehicles.
The ELEPHAS Novatek 96655 dashcam is another dashcam that's recently entered the market. Upon opening the box you'll find the usual contents that you'd expect – the dashcam itself, a charging cable (for your car), and a mounting device. Additionally, it comes with a rear view camera that can be installed separately should require it and then be connected to the main unit.
Setting up the dashcam is reasonably simple – although I personally found the interface to be a little clunky at times. The main buttons are on the bottom of the device – this sometimes makes it harder to access controls and navigate through menus. Once you get used to it you'll be fine but it does take a little brain training!
Once you've set your basic preferences like video quality, audio recording and motion detection, you're ready to fit the dashcam into your car. Simply attach the mount to the top of your windscreen and clip the dashcam in. After that, you just need to get a power source to the dashcam (using the supplied power adapter) and you're ready to go.
You'll find that as soon as you start driving the dashcam should power on. I was impressed by the unbelievably accurate motion detection that I believe is accomplished using an on-board accelerometer – there's certainly no need to worry about turning the dashcam on manually when you start driving.
Recording quality was impressive – particularly in daylight conditions. It was a little less impressive in evening or night-time conditions but it certainly performed better in low light than some other dashcams that I've tried.
The video below shows a sample of the evening footage that I recorded with the dashcam. As you'll see, even in low light it recorded some very decent footage – any object hitting your vehicle would be easily identifiable. You may still struggle to identify registration plates in low light, but I feel that the low light recording performance was good given the size of the camera.
The biggest niggle I found with the dashcam was the sound effects which I felt were a little annoying. I couldn't find any way to turn off the bootup and shutdown sound which means that every time you start and stop your vehicle you get a very tinny tone. Hardly a massive hindrance but it might be annoying if you do a lot of start-stop driving.
Additionally, I'm not entirely sure why the manufacturer bothered fitting a battery to the device as it holds absolutely no charge at all – maybe one minute of charge at the most. I've seen other dashcams have a slightly more useful battery fitted to provide an emergency power source, but the battery in this device is just nonsensical. You'll want to keep it connected to a 12v supply whenever you're driving.
Other than those small issues, the dashcam is otherwise very impressive. The recording quality is solid in all conditions and having the rear camera is a massive bonus if you like being protected from all angles. A minor software update would fix the sound issue that I had – but for that issue I'd probably have given it closer to 5 stars.