In Windows 7, there's a brand new way of managing the look of your computer. It's much tidier and more customizable than in Windows Vista.
To access the central menu for personalization, you can right click on the Desktop and click Personalize, and you will be presented with the following window: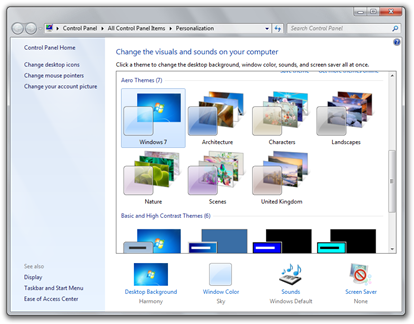 You may notice that I've scrolled down quite a lot on the window. This is because I've already downloaded some themes on my computer, so it may be confusing if i show them. Anyway, moving on…
Windows 7 comes with a selection of themes to come from. If you'd like to look through what is already available, simply scroll through "Aero Themes" and click on any one you would like to see. It will automatically apply any theme you click on.
If they don't interest you, you can try viewing some online and downloading those. Microsoft regularly creates more themes for you to download for your computer. Simply click the "Get more themes online" link.
Once you've found the theme you're happy with, just click it and the theme is automatically running.
You can customize the theme if you'd like. Just use the four options at the bottom of the window – ie Desktop Background, Window Color, Sounds and Screen Saver. You can spend ages using your own backgrounds, colors, sounds and screen savers if you want!
Have fun with the great new options in Windows 7!