I own an EI System 1201 as one of my laptops, as I thought it was an excellent budget buy. I bought it in June '08 with Vista Home Premium… and sadly 1GB of RAM. Vista and 1GB RAM don't mix, trust me.
Anyway, I googled some RAM for the system and many sites are telling me that it only has 1 RAM module. However, I'm not totally sure of this. I've taken the back off and this is what I saw: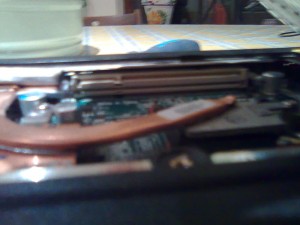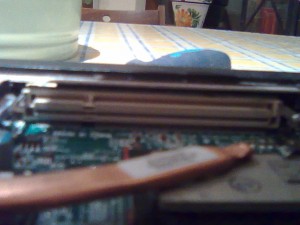 Correct me if I am wrong, but I believe that is two slots.
Many sites are claiming that it is one slot only, but I think there may be another one hidden underneath it.
I am also trying to get clarification on whether the maximum memory is 2GB. I've seen this site, Ei Systems Laptop Memory :: 1201 Laptop Memory :: Offtek.co.uk, the Memory Superstore, which claims that there is a 2GB module avaialble for the system.
It's all very blurry for me – can you get 2GB in by either getting 2x 1GB modules or 1X 2GB module. If you've got any experiences in installing memory in this laptop, please post a comment? Have you ever got 2GB in?
Update 7.2.09 – Thanks very much to Mark (see comments) who has now can confirmed he can upgraded his EI System 1201 with a 2GB PC5300 667mhz of RAM, and that he is relatively sure there is only one slot. So my mistake if I got that wrong :).
Update 21.2.09 – Have ordered a 2GB piece of RAM for the laptop from Crucial, so will report back when I have it delivered and installed. Wish me luck.
I can confirm the RAM upgrade was successful.