I have mixed feelings about the Windows 7 Start bar – sometimes it is really helpful and sometimes it's a pain in the backside.
Anyway, if you don't like the new chunky Start bar without the program text, here's how to change it back to the traditional Windows Start bar.
Right click on the Start bar and click Properties.
On the Start Bar tab, tick the "Use small icons" tickbox.
Then, on the Taskbar Buttons dropdown menu, select "Never combine".
Click OK, and the Vista style Start bar will return in all it's glory, whilst keeping the new Windows 7 features.
In case you're unsure, take a look at the screenshot below which shows what the Properties box should look like…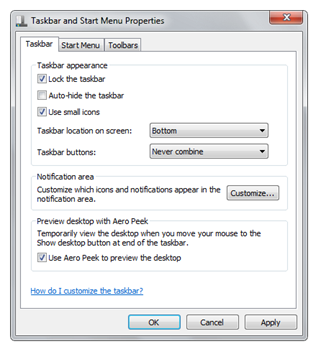 There you go!