Last night, I came across a minor issue on my netbook. I want to be able to charge some of my many USB devices (such as my phone, iPod, mifi) while on the go, but I couldn't get them to charge properly.
For example, I tried to plug in my mifi to charge it up on my long trip home – the computer recognised it fine and it charged for a few seconds – but after a little while the device reported it wasn't charging.
I've discovered the problem is caused by a little power saving feature in Windows 7. It has a feature built-in that automatically reduces the power supplied to a USB device if it is not in use. Whilst this is a handy idea, it's pretty annoying when I want to charge gadgets.
If you're having the same issue, here's the fix.
Go to Control Panel (make sure you're viewing all options – by selecting Large/Small Icons in the "View by" menu), click Power Options and then choose the power plan that you're using most (in time you might want to go through all of them). For the power plan you've selected click "Change Plan Settings" and then "Change advanced power settings".
Now you'll need to navigate to the "USB settings" plus button. Click it, then the plus button of "USB selective suspend setting" and you should see the following.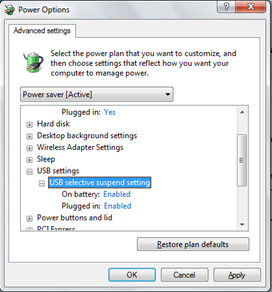 They're probably set to Enabled. If they are, here's your problem. Set it to Disabled for both On Battery and Plugged In, click Apply, and that should solve your problem.
If you can't modify the settings because the options are all greyed out, it's because your computer's manufacturer is using some form of power management software that doesn't want you to change the settings. In the case of my Samsung netbook, it was "Fast Start". Disable whatever crud it is that's greying out the options and you'll be able to modify the settings.